Beowulf Partners With Leading Filipino Educational Institution To Transform English Language Education Through Two-Way Interactive Distance Learning Platform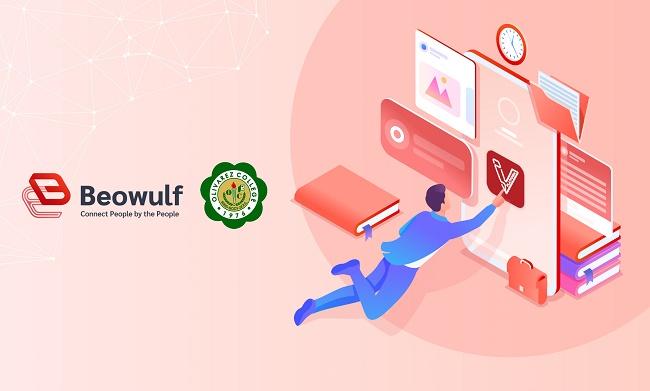 Beowulf Partners With Leading Filipino Educational Institution To Transform English Language Education Through Two-Way Interactive Distance Learning Platform
Pioneer of decentralized communication networks Beowulf announced a global partnership with Olivarez College, a leading private educational institution in the Philippines. As part of this partnership, Olivarez College will adopt the use of Beowulf's Victoria technology to provide a distance learning platform for the English tutoring program and expand its teaching capacity to accommodate a large student body. larger at a lower cost.
As part of this collaboration, Beowulf will provide Victoria's innovative distance learning platform and facilitate potential connections and opportunities with other educational institutions; while the Olivarez College will be responsible for hiring, training and providing educational resources.
The Victoria Platform helps break down long-standing barriers for schools and educational institutions, delivering a flexible, intuitive and two-way interactive platform for distance education that creates an immersive setting as if students and the teachers were physically in the same room.
The platform has become a prime option for educational institutions looking to invest in cutting-edge technologies and offer a knowledge exchange that transcends borders, with recent partnerships including the School of Medicine of the National University of Vietnam, the best higher education institution in the country to provide distance education for medical students. , and National Taiwan Normal University to teach Mandarin around the world.
Olivarez College is a private educational institution designed and established with the belief that providing educational opportunities to the masses is the best legacy one can offer the Filipino nation and the world. The school has managed to effectively maintain its leadership position among other institutes in the Philippines by enriching the student experience with cutting edge technology.
Dr Evangeline L. Olivarez, Vice President of Finance and Administration at Olivarez College, said the combined expertise and experience of the parties will help position Olivarez College as the hub for the development of a program. English tutoring experience unparalleled in the region.
"We wanted to create a very engaging learning environment that would foster two-way interactive learning in a cost-effective way that is easy to learn and use anywhere in the world," said Dr Olivarez. "We found Victoria to be the perfect fit for our needs. This allows our teachers to improve their engagement with students using their own mobile devices, as if they were physically in the same room. Victoria is one of many steps Olivarez College is taking to transform the quality of our education to thrive in a digital world.
"It is very gratifying that we are able to apply our technology to the next wave of education," said Beowulf founder Dr William H. Nguyen. "This new partnership is a testament to our ambition to make high quality, affordable education accessible to everyone, everywhere," said Dr William H. Nguyen, CEO and Founder of Beowulf Blockchain.
About the Beowulf blockchain
Beowulf is a B2B platform providing communication services with infinite scalability across the world. Its technology encompasses a complete suite that manages various communication functions (voice / video calls, messaging) from the front-end infrastructure to the back-end infrastructure, companies paying per minute of use; a decentralized distance learning platform named Victoria; and HANA, an innovative telemedicine system. QUICKOM is a U.S. patent pending Beowulf platform that represents a monumental leap forward in business and personal communication in the digital age, offering a customizable and anonymous QR code calling service that replaces phone numbers by scannable QR codes. For hardware manufacturers and developers, Beowulf provides the Beowulf operating system, a futuristic business model for hardware manufacturers to offer free devices to their customers, the "Open App Store" concept at no cost of digital content and world-class security.
About Olivarez College
Olivarez College is a private educational institution that offers academic programs at preparatory, elementary, secondary, higher and higher levels. It is the only school in the city of Para̱aque that is accredited by the Philippine Association for Accreditation of Schools, Colleges and Universities (PAASCU) and the Philippine Association of Colleges and Universities РAccreditation Commission (PACUCOA). The school is dedicated to the young people of the country willing to seek educational opportunities and challenges for responsible citizenship and leadership by developing the potential of young people until the final realization of their acquired skills and competences, thus enabling them to become assets of the nation and the global community.
TokenPost | [email protected]