How students reimagined the teaching and learning environment and visualized a virtual event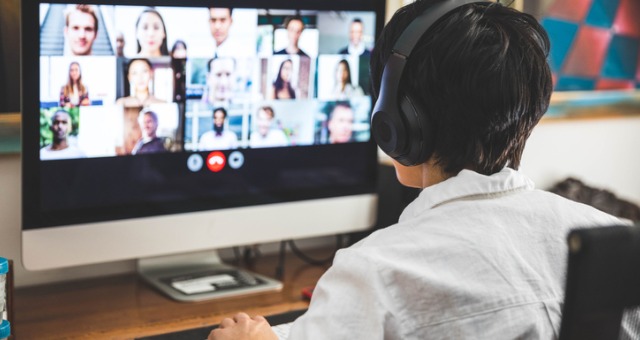 For the past three years, I have taught a social entrepreneurship course with a one-semester project called Climb Above Addiction. This social enterprise supports addiction prevention and recovery through an escalation-themed field day fundraiser. During COVID-19, my students were up for the challenge of reimagining a live fundraiser as a virtual event in just five weeks. As the event exceeded our expectations, I would like to share some of our learnings with you.
1. Goal-oriented learning. Encouraging students to discover a problem worth pursuing, and then nurturing cognitive and behavioral passion can inspire students to make heroic efforts in the pursuit of learning goals and success. For us, living in a state that is in the top five for opioid-related deaths has made our goal very real. The students felt the emotional connection and, through our class, developed a cognitive and behavioral passion. According to Professor Chen (2009) of the University of Washington, cognitive passion manifests itself in preparation, thinking and logic, while behavioral passion manifests itself in commitment of time, responsibility and even of one's own. resources.
2. Power of the imagination. Our journey began by re-imagining the teaching and learning environment and together visualizing what our virtual event would look like. Students gathered for the first half of each class in small groups via Zoom to brainstorm, plan, and develop ideas to create and implement a new event plan. They sparked their imaginations by reading, visiting websites, sharing ideas with friends and family, and even spending time virtually socializing and having fun together. During the last half of the course, we all zoomed in together to discuss the progress, adequacy and feasibility of ideas and next steps; and we shared our screens when needed to show our ideas, accomplishments and assigned tasks. We also used a Google Docs to share and combine our contributions to the event plan, and the Moodle announcements and group texts kept us in touch throughout the week. Have a website and online agenda allowed students to see the event take shape, which increased their creativity by helping them visualize the possibilities. We learned that we could use Facebook Live, Zoom, Kahoot, Padlet and pre-recorded videos to reimagine and organize our virtual event.
3. Co-create with the community. Knowing the strengths of our community and developing collective capacity were essential to the success of our social enterprise. The students had their own social networks, but guiding them to develop these resources within the community and teach them how to communicate and build relationships allowed them, without any financial resources, to co-create the virtual fundraiser of a day. The agenda included live music, meditation, virtual prayer, yoga, raffle, cooking classes, makeup tutorials, rock climbing seminars, fitness session, dance, engaging speakers and a featured production by an actress telling the story of a teenage girl recovering from heroin addiction, followed by a live Q&A with the actress and the recovering drug addict. My students were able to do this by connecting with the internal and external community to access the many assets needed to co-create their solution.
4. Build a growth mindset. This year's Climb Above Addiction virtual event has been of great value in supporting a growth mindset among my students. It helped them recognize their abilities and what they are capable of accomplishing even in the face of adversity. I have to admit, I was quietly worried about the possibility of technical failures when delivering a virtual event using our own student-only-run Wix website, but I never discouraged them from trying or made them fear failure. As a result, they developed a positive attitude and understood even the most detailed tasks, like learning how to embed codes on our website for Facebook Live feeds. At the end of the event, the students responded that the results exceeded their expectations. This kind of positive, encouraging, confidence-building experience helps students believe in their potential to solve complex problems in the future.
5. Shared leadership in a team environment. By sharing leadership, each student on our team brought unique skills and abilities to each challenge. They helped organize and lead event activities, organized speakers, fostered participation, managed logistics and communicated with community partners. Eventually, one of the students became our event manager to help coordinate activities, although he was never officially appointed to this position. It would have been impossible to assign this role to the newly created team at the start of the semester; but as the class evolved, he gained this role. Together we had the combined leadership of the whole class which helped balance responsibilities and overcome what could have turned out to be an overwhelming and stressful experience.
6. Stimulate student motivation. If you believe in intrinsic motivation, then you know that autonomy, mastery and purpose are key factors in performance and satisfaction. According to Rose (https://www.danpink.com/books/drive/), we all have "a deeply human need to lead our own lives, to learn and create new things, and to do better for ourselves and our world". It was this sense of empowerment, mastery and purpose that drove our entrepreneurship students to take what some thought was impossible and make a dream come true. Letting go of the reins and allowing students a sense of empowerment takes courage from any faculty member. It also requires knowing when to step in and when to let go, but ultimately creating an empowered learning environment and fostering lifelong learning is worth every challenge.
7. Achieve higher order learning. Goal-driven community projects that nurture a growth mindset, shared leadership, intrinsic motivation and imagination translate into higher order learning. According to Bloom's Revised Taxonomy (2002), these critical thinking skills include the ability to analyze, evaluate, and create new ideas and ways of thinking. To create consists in "assembling elements to form a whole new and coherent or to make an original product (generate, plan, produce)". As we work to assess learning and demonstrate student achievement, it's reassuring to know that real-world projects can inspire students to achieve the highest levels of learning.
---
Bonnie Bechard, EdD, teaches social entrepreneurship, organizational behavior, and event marketing courses at Plymouth State University (PSU). Dr Bechard is professor of innovation and entrepreneurship and is also an educational advisor to the PSU chapter of Enactus, an international student organization dedicated to entrepreneurial action. She is passionate about tackling homelessness, drug addiction and developing the next generation of social entrepreneurs.
The references:
Chen, XP, Yao, X., & Kotha, S., (2009). Passion and preparation in the presentations of business plans of entrepreneurs: an analysis of the persuasion of financing decisions of venture capitalists. Journal of the Academy of Management, Flight. 52 (1), p. 199-214. Recovered from https://www.academia.edu/2245523/Entrepreneur_passion_and_preparedness_in_business_plan_presentations_A_persuasion_analysis_of_venture_capitalists_funding_decisions
Rose, D. (2011). Drive: The surprising truth about what drives us. Riverhead Books, New York. Recovered from https://www.danpink.com/books/drive/.
Krathwohl, D. (2002). A Review of Bloom's Taxonomy: An Overview. EBSCO editions. Recovered from https://www.depauw.edu/files/resources/krathwohl.pdf

Publication displays:
188