Provost Passerini speaks at the United Nations.
Dr. Katia Passerini, Vice President and Executive Vice President, was a speaker at the International Council of Small Businesses and MSMEs forum at the United Nations. This forum was organized by the United Nations through a collaborative effort among many UN agencies (for a full list Click here).
Highlighting the importance of education, Dr. Passerini joined a group of business, political and academic leaders at the United Nations Headquarters in Manhattan for the International Council for Small Business' Knowledge Summit Day, micro, small and medium-sized enterprises (MSMEs). Highlights of his speech are below, or Click here to watch his speech at the UN
The event took place on Monday, June 27, 2022. The theme of the summit was "Resilience and Reconstruction: MSMEs for Sustainable Development at the forefront of building back better and stronger from the impacts of the COVID-19 pandemic, of the climate crisis and conflict."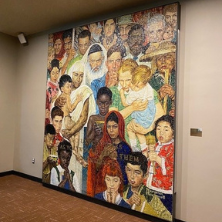 by Norman Rockwell The golden rulepresented in the corridors of the United Nations
Dr. Passerini's round table focused on the importance of eradicating poverty through education. "If there is a way to achieve, not just Sustainable Development Goals (SDG) 1 (No Poverty), but all of the SDGs, it really is through education. Not just primary education, not just secondary education, but higher education.
Using proverbs, stories and fables, Dr. Passerini's discussion focused on quality education for all. It may take up to 25 years to achieve this, but a bachelor's degree or beyond should be available to everyone, because it is through education that we can eradicate poverty by providing everyone with the opportunity to realize themselves and to provide the tools and framework for innovative thinking.
How does higher education prepare entrepreneurs to change the world? We don't need more small nonprofits competing for resources; we need more innovative nonprofits; we need socially engaged entrepreneurs who want to see the SDGs progress.
Higher education is important in fostering this mindset, especially faith-based institutions, such as Seton Hall – we train servant leaders. Education can prepare future leaders, innovators and entrepreneurs to have a long-term impact on the world. We prepare many micro, small and medium enterprises to thrive and help save everyone's life, like in Aesop's fable of the Lion and the Mouse. These MSMEs will help us all achieve the SDGs.